You've decided that you want to learn to drive in an automatic car and now's the time to start looking for an automatic driving instructor. But how do you find a good driving instructor?
It's important to find a good driving instructor, because by doing so it can:
speed up your ability to learn to drive
make driving lessons more pleasurable
potentially save you money
You can find a good automatic driving instructor by:
Choosing a local driving school
Checking for reviews
Avoiding choosing only the cheapest
Considering what car you'll be taught in
Checking the driving instructor's qualifications
Ask how long the instructor has been teaching
Check how long lesson waiting times are
Take an assessment lesson
1. Local or National Driving School?
When conducting your search for a driving instructor, you'll find that there are independent local instructors to your area and national driving schools who have instructors spread over many areas.
The benefit of a local independent instructor is that they will have considerable knowledge of your local area and more importantly, the driving test routes in which examiners take test candidates on. A instructor from a national driving school may also have this knowledge, but due to these instructors often having a much larger area to teach pupils in, it's less likely.
The benefit of having an instructor who has considerable knowledge of the test routes for your chosen test centre is significant. You will learn all the difficult areas that examiners will almost certainly take you to.
2. Check for Reviews and Comments
Once you have selected a handful of instructors, dig a little deeper and look for reviews and comments on social media. You'll want to find out more about the actual instructor who you'll be spending many hours sitting next to. With national driving schools, this can be difficult due to the many instructors they have.
3. Avoid Going for the Cheapest
Price does of course factor into the selection process, but avoid simply choosing the cheapest as long-term, that decision may cost you more. Factor in all of the advice in this guide and base your decision on that, rather than price alone.
4. Consider What Car You'll be Learning in
Many learners don't consider the car that they'll be taught in or if they do, they might choose an instructor who has a cool looking car. In terms of the car, you'll stand the best chance of passing the driving test in a small car that has good all-round visibility.
Small cars tend to be easier to manoeuvre and a car that has good all-round visibility means that you can clearly see what's around you. This helps for observing pedestrians, cyclists and other road users and can also help to make the driving test manoeuvres easier.
Things such as the car's shape and bodywork can affect your ability to judge where your vehicle is in relation to kerbs and other objects. Small windows and mirrors restrict your view and large, thick window pillars can cause hazardous blind spots.
Driving instructors often reveal which cars they use on their website. You can easily search online for any particular car's all-round visibility and whether it's considered good, acceptable or bad.
5. Check the Driving Instructor's Qualifications
Now that you've narrowed down your choice of driving instructors, you need to ensure that they're qualified to do the job. Last thing you want is to be paying an individual who's had no formal training. It's actually illegal to teach driving for payment and if you come across such an instance, you should report it to the DVSA.
There's two ways to check a driving instructors qualifications. Firstly, you can look for a driving instructor on the governments website. You can be sure that those instructors listed are qualified. However, being listed is optional, so not all instructors will be on there.
The second option is to visually check the driving instructor's licence. A driving instructor's licence is either going to be coloured green or pink and must be clearly displayed inside the front windscreen.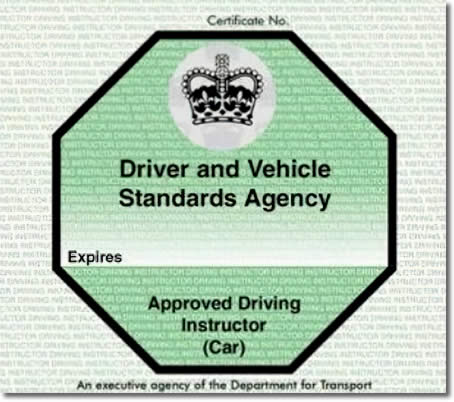 A driving instructor displaying a green licence means that they have passed all three exams and are an Approved Driving Instructor (ADI). Check their photo on the licence and that the licence date has not expired.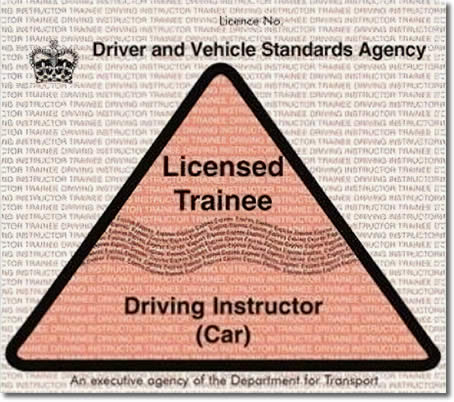 A driving instructor displaying a pink licence means that they're part-qualified and that they have passed two of the three exams required to become fully qualified. Before the DVSA issues them with a trainee licence, they must have completed at least 40 hours of training towards the final exam. A trainee driving instructor is also known as a Potential Driving Instructor (PDI).
A driving instructor either part-qualified or fully qualified can teach learner drivers in an automatic car or a manual. The choice is the instructors. Though most driving instructors still teach manual, due to more people choosing to learn in automatics, automatic driving instructors are now becoming far more common.
6. Ask How Long the Instructor has Been Teaching
As with anybody that you're going to hire for their services, it's best to get someone who has a few years experience behind them. That's not to say that an experienced instructor will teach any better than a newly qualified instructor, but with experience comes the knowledge of the test routes that examiners take you on. These routes often feature challenging areas and if you're able to learn these routes, it'll certainly help on the day of your driving test.
7. Check How Long Lesson Waiting Times Are
A driving instructor with a fairly open diary might be a sign that they are struggling to retain pupils. Driving instructors that are in demand often have diaries that are quite full.
8. Take an Assessment Lesson
Finally, once you're down to your chosen few, take an assessment lesson with them. This assessment lesson allows the instructor to assess your ability and to them give you an overall estimate on how many hours they think you'll be required before taking the driving test.
More importantly however, this assessment lesson allows you to assess the instructor. This is very important because in any situation in life, some people just don't click. You need to ensure that you feel safe and comfortable with the instructor because you're going to spending many hours sitting next to them. You also need to ensure that you understand their teaching style and that they're teaching you at a speed that's appropriate for you.
If after the lesson, you feel happy that it's gone well, you can them discuss with the instructor about pre-booking lessons (you might need to do this if they have a busy diary) and block booking as this often saves you money.