Driving test routes are essentially a pre-planned combination of roads that are designed to include as many varied road conditions and traffic systems as possible, within the driving test's 40 minutes.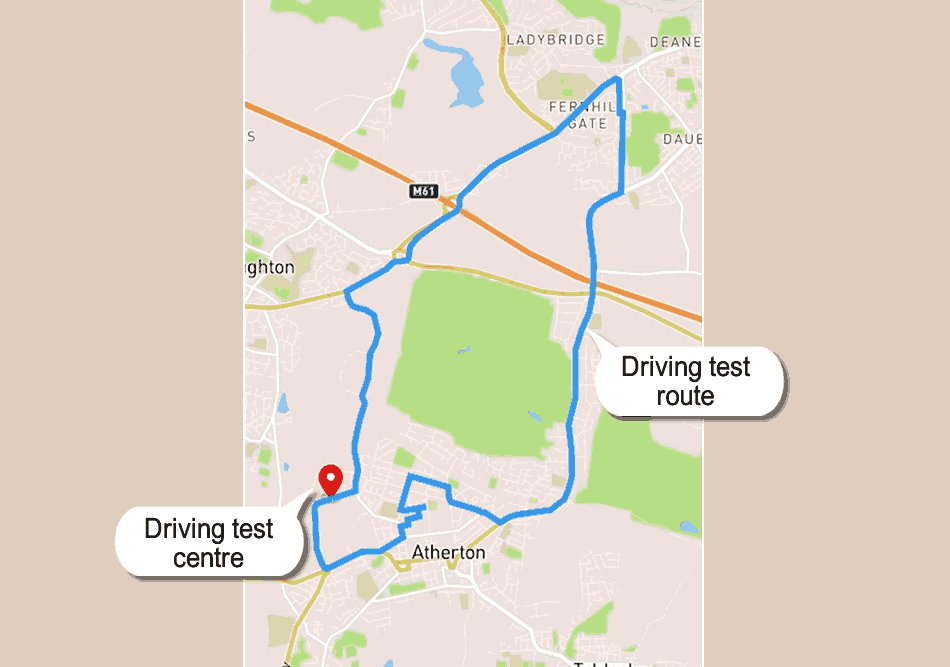 If we take a look at this test route example from the Atherton driving test centre in Manchester, we can see that that the test route includes busy urban roads, residential areas and high speed major roads. Depending on the location of your test centre, the routes can also include country roads.
Do Driving Tests Have Set Routes?
Yes, the test centre manager is responsible for setting the test routes for each individual DVSA driving test centre. The test centre manager will have good knowledge of the local road system and plans the routes to:
Take no more than 30 to 35 minutes to complete
Include as wide range of roads / driving conditions as possible
Include as wide range of traffic systems such as different types of roundabouts, junctions, pedestrians crossings etc
Include particularly challenging areas such as closed / blind junctions, complex multi-lane road systems, areas with parked cars etc
Include roads that have clear signage suitable for independent driving
Have suitable locations for manoeuvres such as parallel parking, bay parking etc
Include a suitable area to carry out the emergency stop
The test centre manager will devise several test routes, depending on where the test centre is located and how popular it is. For example, a quiet test centre located in a remote area may only have 2 or three test routes assigned to it. But a busy test centre in London may have around 15 or more test routes.
Does Knowing the Test Routes Increase your Chances of Passing the Test?
Yes, being familiar with the driving test routes can significantly increase your chances of passing the test. This is why back in 2010, the DVSA stopped publishing the test routes to members of the public. They felt that it gave an unfair advantage to those that used them.
When it comes to knowing the test routes, it's not about being familiar with each and every road, it's about knowing the specific difficult areas that are built into every route. The areas that can easily catch out the unaware.
How do I Become Familiar with the Test Routes?
There's two ways of doing this. Employ the services of a driving instructor local to your area who has good knowledge of the test routes, or download our driving test routes app and practice the test routes on your mobile phone's sat nav, whilst driving.
With our driving test routes app, you'll have over 370 practical driving test centres to choose from, with over 7000 up-to-date, turn-by-turn test routes. The driving test route app is available for iOS & Android. Download now, or for further information, see the download driving test routes page.