Many new drivers are scared of driving for a variety of reasons. Whether it's a fear of having an accident, being concerned at messing up and not understanding it, anxious about trying something totally different, the possible reasons vary on the individual.
The fear of driving a car can result in some learner drivers feeling nauseous, unable to sleep, excessive sweating, shortness of breath / rapid breathing, panic attacks and even vomiting.
Regardless of your severity to the fear of driving, one thing you do share with the majority of new drivers, is that most are scared about learning to drive – so you're really not alone on that one.
If however the thought of learning to drive makes you fearful to the point where you keep postponing taking lessons (even though it's something you feel that you must do), you might need to take a slightly alternative approach to simply turning up to your first lesson.
Choosing and Meeting the Instructor
For many highly nervous learner drivers, meeting the person who'll be teaching them, prior to booking any lessons helps a lot. It allows the learner to become acquainted with the person they'll be spending many hours on the road with and more importantly, to gain a sense of whether they feel comfortable with this person and that they can be trusted.
Conversation should be centred around how scared you are of learning to drive and what plans the instructor can put in place to help reduce those fears. Make it clear that your priority is to overcome your fear of driving rather than to reach test standard as quickly as possible.
This goes someway of placing control back over to the nervous learner which helps to reduce anxiety. Further to this, it often helps with anxiety when you know what you're getting into rather than leaving it to the day of the lesson. So when you meet the instructor, ask them about what will happen during the first lesson.
It may seem a little excessive meeting up with the instructor prior to booking lessons, but it really isn't. The standard at which the Driver and Vehicle Standards Agency (DVSA) test driving instructors has changed significantly over the last few years. Along with an instructor's ability to teach, a large emphasis on the DVSA check test now involves the instructor's ability to deal with different types of learners and how mental health can affect their ability.
Besides that, you'll be spending a lot of time and money with the instructor, so it's always a good idea to meet them prior to committing yourself.
If you want to meet the instructor prior to taking lessons with them, you're better off looking for a local independent instructor rather than one that works for a national driving school. This way, you can have direct contact with the instructor right away, rather than having to deal with a call centre.
Don't Rush to Reach Test Standard
Some new drivers view learning to drive as an obstacle in the way of having a full licence and want to get it out the way as quickly as possible to pass the test. Realistically, learning to drive should be viewed as a method to gain as much driving experience as possible and then to take a test when you feel ready.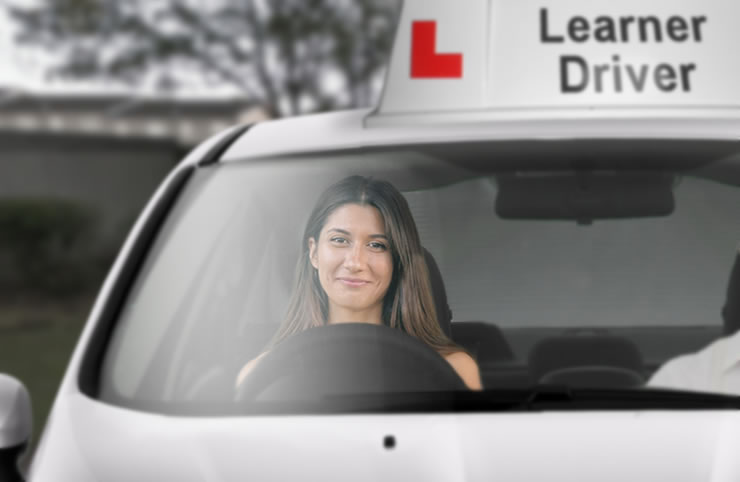 If you're scared about learning to drive, consider each lesson as gaining a little more experience and for now, forget about the test. Take it slow and learn at a rate that you're comfortable with. Even if a lesson goes badly (we all have those), it's still experience and something that you'll learn from.
The more driving experience you gain, the more confident you'll become and the less scared you'll be before each lesson. For those that are particularly nervous, it may take a while, so be prepared.
Take Regular Lessons
If you find learning to drive scary, it's quite tempting to skip and cancel driving lessons. This is actually the worse thing to do as it increases anxiety. Aim for regular lessons of at least one 2 hour lesson each week. If 2 hours is a little much, many instructors offer hour and a half lessons.
Choose Automatic
Learning to drive in an automatic car doesn't necessarily mean it's quicker, or easier to pass the test, but if you're anxious about learning the car controls, removing the necessity to master clutch control and manual gears certainly helps.
Driving an automatic instantly relieves the fear of stalling at a busy junction and that nagging concern of wondering if you're in the correct gear. Besides, with electric cars becoming more popular (all being automatic) and traditional cars being phased out, there's really no longer any need to learn in a manual.
You'll Feel Like You're Making Zero Progress
While learning to drive, many learners reach a point where they feel like they're making no progress and making the same mistakes over and over. This is actually a very common issue among learners, but in reality, it is progress.
We all reach certain points in our lives where we struggle to get past a particularly difficult situation. This can be anything in life, but with some learners, it's to do with a certain procedure of learning to drive.
What we need to do is to keep practicing until we get good enough to get over it. So though it may seem like you're not making progress, the constant practice will provide you with the skills and knowledge to overcome it.
Fear of an Accident
For some learner drivers, it's the fear of an accident that makes them scared of learning to drive. You need to remember that if you do make a mistake, your instructor has fully control and can stop the car by using their pedals.
Tips For Those Scared of Learning to Drive
To summarize, these are the top tips we'd recommend for new drivers that are scared of driving:
Find a driving instructor who's experienced at dealing with anxious learners
Meet the instructor prior to booking lessons to ensure you feel comfortable with them
Consider learning in an automatic car
Talking is good! Throughout your lessons, talk to your instructor about fears and concerns you have so that they can help
Set small achievable goals
Take regular lessons
Don't be put off by the feeling of lack of progress
Don't expect too much too soon. It takes time and the more experience you have, the easier it gets