In order to become a fully qualified driving instructor, three exams must be passed. The first exam tests their knowledge of the Highway Code, the seconds is a test of their ability to drive and the third is a test of their ability to teach driving. To pass all three exams, a lot of training and expense is involved.
The tests are developed and carried out by the DVSA (Driver and Vehicle Standards Agency) and are mandatory for anyone who wishes to teach driving in exchange for payment. In addition to the three exams, every for years all fully qualified driving instructors must undergo a standards test to ensure they retain high standards.
If you're paying for driving lessons, you want to know that you are being taught by an individual that's passed the relevant exams and that they are teaching to the high standards required by the DVSA. With that in mind, we're going to explain how to check if a driving instructor is qualified.
How to Check if a Driving Instructor is Qualified
There are two methods that can be used for checking if a driving instructor is qualified:
Contact the DVSA to enquire about a particular instructor
Ask the driving instructor to show you their licence
Contact the DVSA to Enquire about a Particular Instructor
If you want to find out if a driving instructor is qualified before meeting them in person, contacting the DVSA is the ideal method. The DVSA maintain a database of all fully qualified and part-qualified driving instructors.
All you'll need is the driving instructor's full name and ADI number. 'ADI' stands for Approved Driving Instructor and the DVSA issue all fully qualified instructors with a unique ADI number. Part-qualified driving instructors are known as Potential driving instructors, or 'PDI' and will also be issued with a unique number.
A PDI becomes eligible to teach driving in exchange for payment once they have passed the first two exams and have had at least 40 hours of training towards the final exam.
Contact the driving instructor, ask for their name, their ADI/PDI number and contact the DVSA using one of the following methods:
| Method | DVSA Customer Support |
| --- | --- |
| Email: | customerservices@dvsa.gov.uk |
| Telephone: | 0300 200 1122 (Monday to Friday, 8am to 4pm) |
The DVSA will inform you whether the individual is fully qualified, part-qualified or if they hold no information on the individual.
You can also use the DVSA's public directory to search for a driving instructor, where all listed instructors will be DVSA approved (ADI). However, it's important to know that being listed here is purely voluntary.
Ask the Driving Instructor to Show you Their Licence
All driving instructors whether part-qualified or fully qualified are issued a licence by the DVSA. A part-qualified driving instructor (PDI) is issued a pink licence containing a triangular shape and an approved, fully qualified instructor (ADI) is issued a green licence containing an octagonal shape. This licence is also referred to as a 'badge'.
The badge must be on display inside the vehicle's front windscreen. From the outside of their car you should see either a green or pink licence along with the applicable triangle or octagonal shape.
On the inside of their car, the licence will display the instructor's photo, name, ADI number and the date in which the licence is valid from and when the licence expires.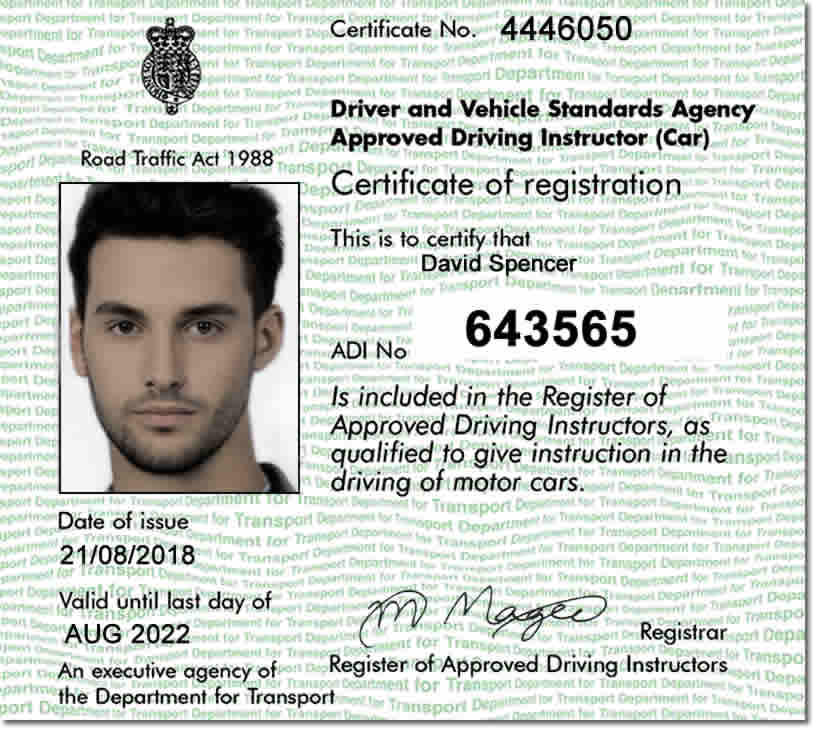 Although their badge should be on display, there might be a reason why they removed it. If you can't see it, ask the instructor if you can take a look. If the instructor is unable to show you their licence and unwilling to tell you their ADI number, then it's probably an illegal driving instructor.
What is an Illegal Driving Instructor?
An illegal driving instructor is an individual who teaches driving in exchange for payment, but is not qualified or registered with the DVSA.
An illegal driving instructor may not teach you the correct procedures required for passing the driving test and ultimately may cost you more money. More importantly, as they may not be teaching to the high standards required by all DVSA approved driving instructors, there's also a potential road safety risk.
Additionally, to ensure personal safety to learner drivers, all PDI's and ADI's must undergo a DBS check (previously known as CRB check). Every four years, an ADI must re-register with the DVSA if they wish to continue to teach driving. Re-registering also includes a DBS check.
If you suspect that a driving instructor is teaching illegally, you can report them to the DVSA. The DVSA takes this matter seriously and investigates every report.
| Method | DVSA Counter-fraud and Integrity Team |
| --- | --- |
| Email: | cfi@dvsa.gov.uk |
| Telephone: | 0300 123 3248 (Monday to Friday, 8am to 6pm) |