In the UK, around 25 percent of all road accidents occur at T-junctions. There's a lot going on at T-junctions. For starters, it's where two roads meet and then, you often have many others hazards to deal with. This may explain why every year, the number one reason from the DVSA top ten list of most common reasons for driving test failures is at junctions.
No two junctions are the same. It's important that as you approach, you determine whether the T-junction is open or closed, unmarked, marked or traffic light controlled. You'll also need to take into account the various potential or actual hazards often found around T-junctions. Let's take a look at what hazards you can expect around T-junctions.
Parked Cars At Junctions
Rule 243 of the Highway Code states: Do not park opposite or within 10 metres (32 feet) of a junction, except in an authorised parking space. This rule is to allow drivers emerging from, or turning into the junction a clear view of the road that they're joining. An unobscured junction also allows drivers to better observe hazards such as pedestrians crossing the road and cyclists.
However, you'll often find that this rule is ignored by many motorists, particularly in residential areas. Obstructive parking is often due to there being too many cars for what our streets were designed for. When dealing with junctions, you'll need to be prepared for vehicles that are parked obstructively and what hazards these parked vehicles may result in.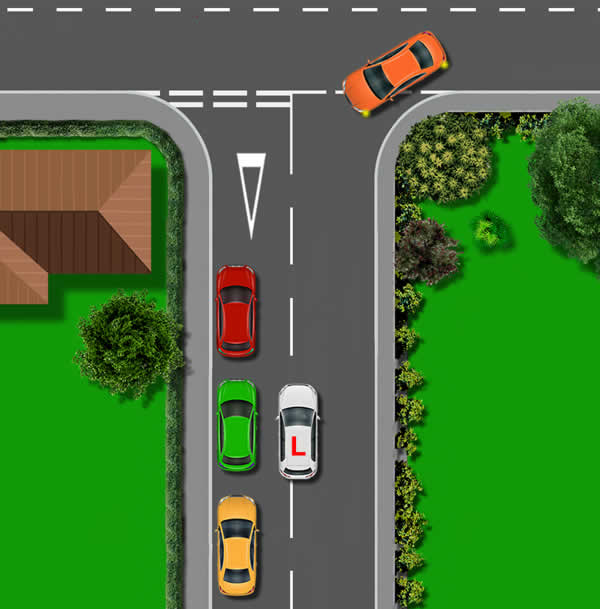 Approaching a T-junction, you'll often have cars parked on the left. This can be hazardous due to vehicles turning into the junction (orange car). Usually the cars turning into the junction will stop a give way, but you'll need to be prepared to stop and give way.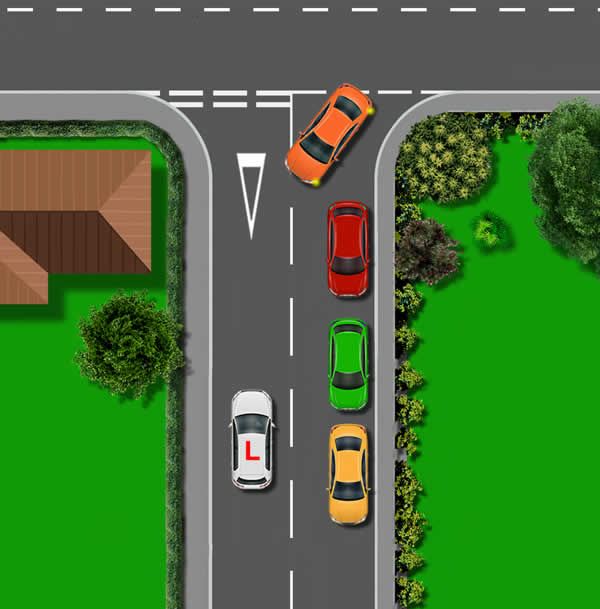 As you approach the T-junction, you may instead have parked cars on the right. If the cars are parked close to the junction, it'll be hazardous for vehicles turning into the junction (orange car). If there's only enough room for single-lane traffic, cars turning into the junction will usually stop and wait. However, you'll need to anticipate that they might not do and be prepared to stop opposite gaps in the parked cars. This'll allow the approaching vehicle to go into the gap, so that you can proceed ahead.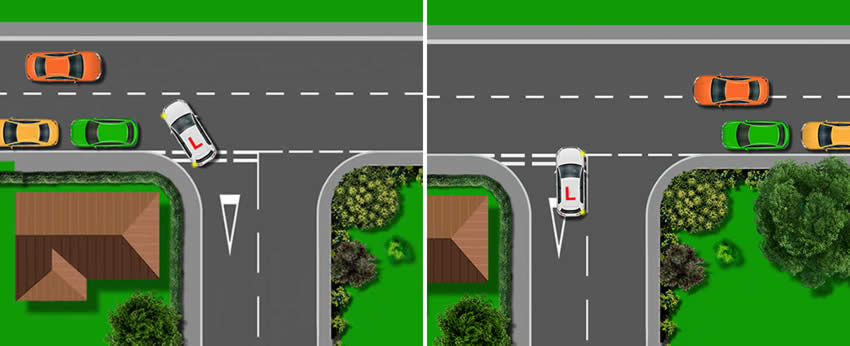 As you emerge from a T-junction, you'll need to be aware of parked vehicles, either to your right or left that may obscure your view of the road. You may need to edge forward slowly using the peep and creep technique.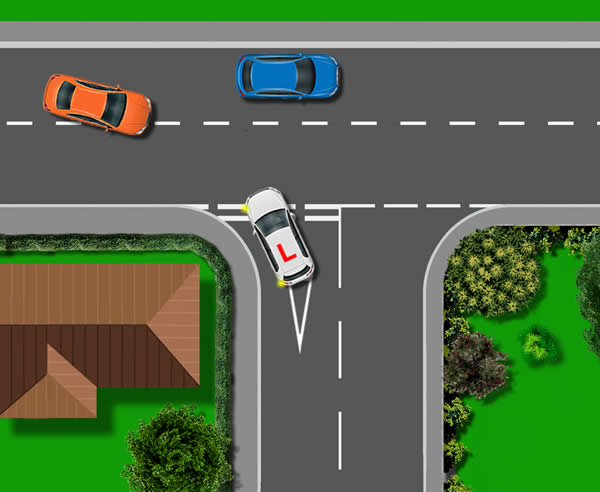 Cars parked opposite a junction can be hazardous due to vehicles that move onto the opposite side of the road to pass them. When emerging left from a T-junction, a driver's priority of observation is typically to their right. without proper observation, the could put the emerging car and the overtaking orange car at risk of collision. Remember to always look left and right at least twice before emerging from a junction.
Pedestrians Crossing the Road
Junctions are places where you'll often see pedestrians crossing the road. The Highway Code has been updated detailing a hierarchy of road users. with the most vulnerable (pedestrians) being at the top. You can find out more about these Highway Code changes and how those changes affect drivers by reading pedestrians crossing at junctions.
When approaching a T-junction to emerge, or when turning into a junction, always be aware of pedestrians crossing the road. As you approach, scan up and down the road, looking for pedestrians and stop to give way if it's safe to do so. Parked cars, particularly those that are obstructively parked will likely provide an additional hazardous layer, making it more difficult to see pedestrians.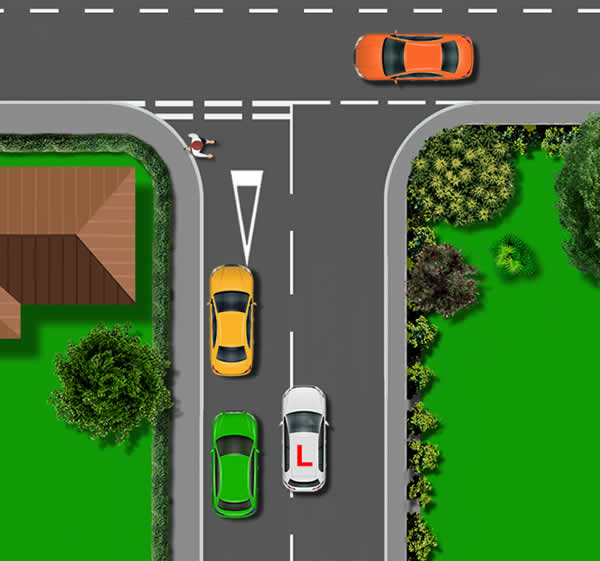 Cyclists
A car blind spot that we often forget about is due to the two pillars either side of the windscreen. These pillars are called 'A' pillars and vary in size depending on the vehicle. As can be seen by the red shaded area, these pillars can easily conceal a pedestrian, cyclist or even a motorcyclist from view.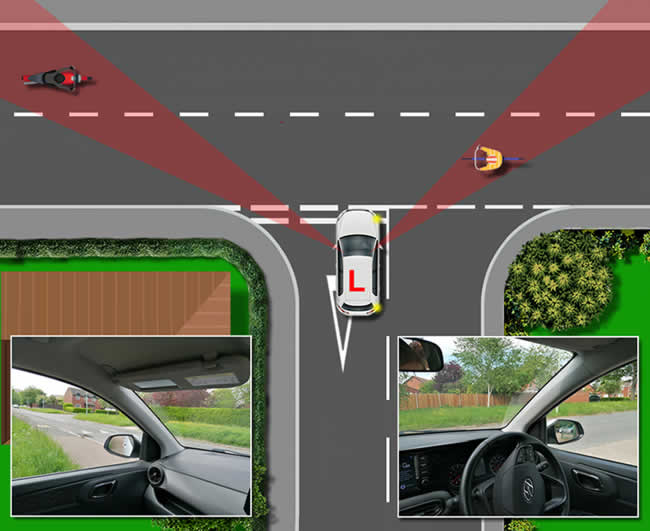 Problems tend to occur when drivers do not take enough time to carry out effective observations before emerging from a junction. If you've stopped before emerging from a junction, always look in both directions at least twice and move your head forward so that you can see into the area that's obscured by your car's A pillars. For further information about a car's A, B and C pillars, see blind spots at T-junctions.