Car Brakes Explained
To gain a better understanding of how to use your car's brakes, it'll help if you understand how they work. This guide will run you through the basics of how a car's brakes works. This car brakes explained guide starts from the brake pedal and finishes at the wheels.
Brake Pedal
When the driver pushes down on the brake pedal, this action operates a push rod. This push rod is pushed forwards and enters the next part of the car's braking system called the vacuum brake booster.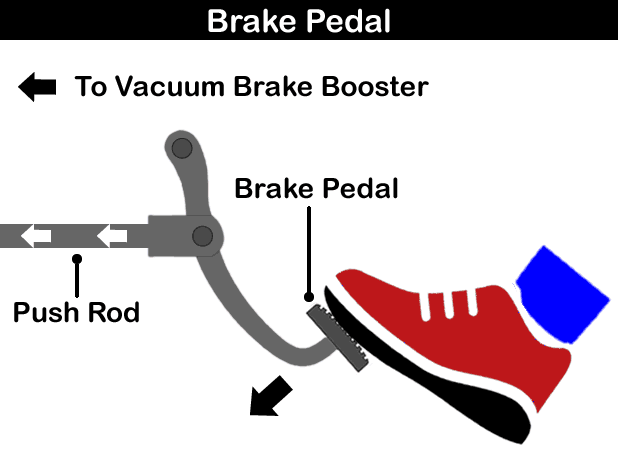 Vacuum Brake Booster
Operating the brakes simply by the force of pushing down the brake pedal is quite difficult and some drivers may find braking, particularly braking hard, quite difficult. To help with making it easier, cars have a device called a vacuum brake booster.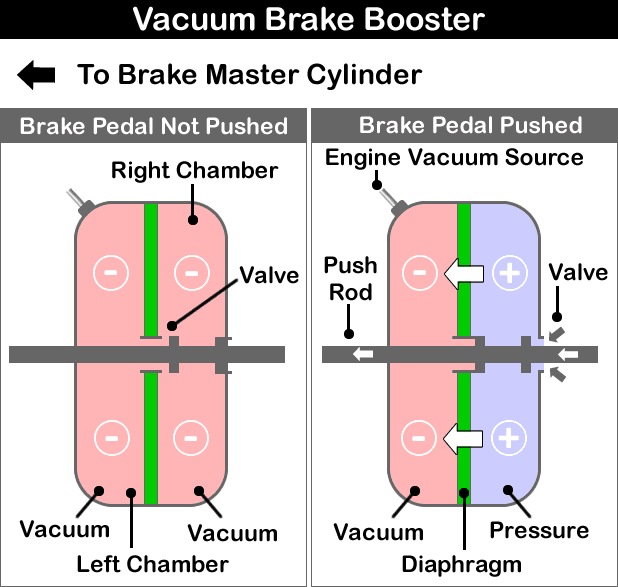 A vacuum brake booster is essentially a metal box which is divided into two chambers by a moving wall called a diaphragm. The brake booster assists the driver by use of air pressure to create a greater force on the brake pedal.
The brake booster is connected to a vacuum source on the engine which sucks all the air out and creates a vacuum. When the brake pedal is not pushed down, a valve in the diaphragm is opened to allow an equal vacuum pressure in both the left and right chambers.
When the brake pedal is pushed down, the valve in the diaphragm is shut and a valve inside the right chamber is opened to allow in atmospheric pressure. This positive pressure assists the driver to push the brake pedal / push rod due to the negative pressure vacuum in the left chamber.
Brake Master Cylinder
From the vacuum booster, the push rod now enters the brake master cylinder which then pushes a piston.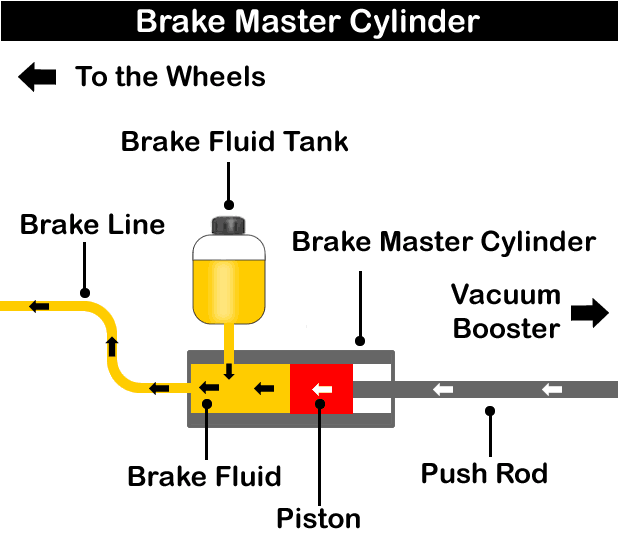 The piston forces pressurised brake fluid out from the brake master cylinder and through four brake lines (or pipes); one line going to each wheel. At each wheel is a brake caliper, brake pads and disc.
Brake Caliper, Brake Pads and Disc
The brake caliper contains a piston, which when the brake pedal is pushed, the pressurised brake fluid forces the piston against brake pads.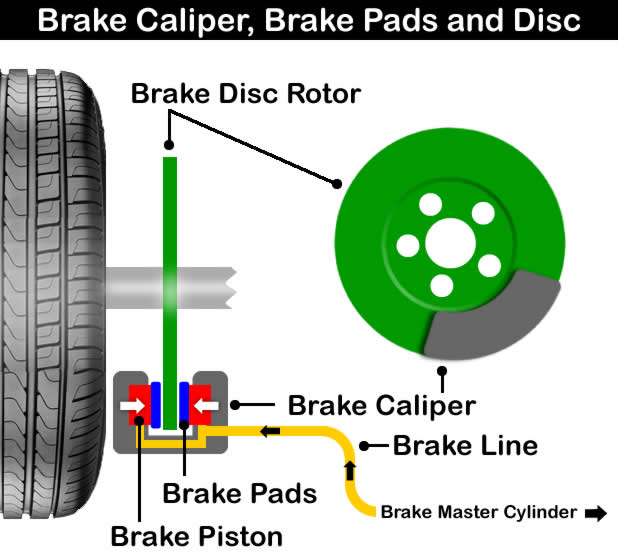 The brake pads are then pushed up against the brake disc rotor. The brake disc rotor is rotating along with the wheels. The friction material used to make up the brake pads presses against the disc rotors to slow down the car.
The harder the brake pedal is pushed, the harder the brake pads push onto the rotor which results in the car slowing down more quickly. This car brakes explained guide and diagrams are a somewhat simplified version of the actual mechanical system, but the basic principle of the system workings and how they work are accurate.