When it comes to the driving test, examiners are pretty strict when it comes to checking blind spots, particularly when moving off.
Blind spots are the areas outside of the car that we can't see in the mirrors. There's a blind spot on either side of the vehicle and depending on the vehicle that you're driving, blind spots can vary a little in size.
How you adjust your car mirrors can also affect the size of the blind spot. Adjust your mirrors correctly and you'll keep the size of the blind spots to a minimum. You can attach blind spot mirrors which help to provide visibility in the areas around your car that you can't see in your door mirrors.
However, even with the best efforts at reducing blind spots, you still should look over your shoulder to ensure that it's clear and safe before moving off. Let's take a look at what we might not see if we rely on mirrors alone.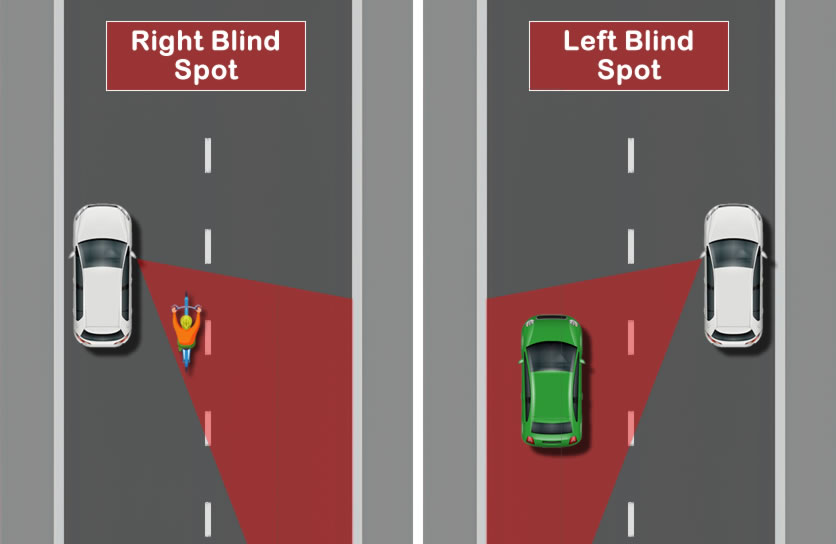 The red shaded area represents the blind spot; the area that cannot be seen by viewing mirrors alone. On a driving test, you'll be required to move off from the left on many occasions. As we can see in the right blind spot, a cyclist could easily be alongside the vehicle just as the driver intends on moving off.
The driving test may also involve the pulling up on the right manoeuvre. When moving off from the right-side of the road, the left blind spot can hide passing cars.
Do You Have to Check the Blind Spot Before Moving Off?
During a driving test, it's essential that along with checking your mirrors, you also check the blind spots before moving off. If you don't check the blind spot, there's a good chance you'll fail the test. In fact, lack of proper observations before moving off consistently makes it into the DVSA's top 10 most common reasons to fail a driving test.
How Do You check the Blind Spot Before Moving Off?
Checking the blind spot is a simple procedure. After preparing the car for moving off and then checking in your mirrors, finish off by looking over your shoulder into the blind spot for the direction you intend on moving off.
That would be looking over your right shoulder when moving off from the left side of the road and over your left shoulder if moving off from the right side of the road.
If there's a delay between observations and moving off (such as having to wait for a passing vehicle), you may need to check the mirrors and blind spot again before moving off.