Many learner drivers are nervous about their first lesson. To help reduce anxiety, it often helps to find out what's involved and what will happen so that there's no surprises on the day.
Here we'll explain in detail, what you can fully expect to happen during your first automatic driving lesson. We'll start from meeting your instructor, right through to when the lesson ends. That way, you'll know exactly what to expect on the day of your first lesson.
First Driving Lesson Preparation
You'll not need much for your first driving lesson, but to avoid any problems, make sure you have:
Your provisional driving licence: The instructor needs to ensure you're legally entitled to drive under supervision. Providing you have the same driving instructor for all lessons, you'll only need to bring your licence for the first lesson.
Corrective eyewear: If during your normal day-to-day activities you normally wear glasses or contact lenses, you should wear them for your driving lessons.
Meeting the Driving Instructor
Upon arrival, the instructor will introduce themselves and probably ask to see your provisional driving licence – so have that at hand. When starting out learning to drive, it's best to begin in a quiet residential area, so if that's not where you're already living, the instructor will likely explain that they'll first drive you to the nearest ideal area to begin the lesson. Once there, the instructor will find a suitable place to park up and you'll then swap seats.
First Automatic Driving Lesson
On your first automatic driving lesson, you will:
Run through the car cockpit drill
Have the car's controls explained to you
Learn how to safely move the car off and stop
Let's now go into more detail. Here we'll explain what will happen during your first driving lesson in an automatic car.
Car Cockpit Drill
Your first driving lesson will begin with the cockpit drill. The cockpit drill is essentially a routine that involves setting the car up so that you can comfortably reach all the controls and also so that you have good all-round visibility.
You'll be expected to carry out the cockpit drill at the start of each and every driving lesson, but on your first lesson, the instructor goes into a little more detail.

The cockpit drill includes:
Doors: Ensuring that all car doors are properly shut and how to check.
Seat: How to adjust the driver's seat so that you can comfortably reach all controls, so that the seat provides maximum safety and so that you have a good view of the road ahead.
Steering: To adjust the steering wheel to ensure safe and comfortable use and an introduction into steering techniques.
Seat Belt: Demonstrating how to correctly wear a seat belt and the dangers of not wearing it correctly.
Mirrors: How to set up your car's mirrors for maximum all-round observation and the difference between them.
On your first lesson, it takes between 40 minutes and an hour to complete this, but on each lesson thereafter, it'll take you just a couple of minutes. Learning all about the cockpit drill will help you prepare for your first driving lesson. It may also help to speed up the lesson, meaning you'll get more done.
Learning the Car's Controls
Once you've set the car up so that you can comfortably reach all the controls, you'll then be taught what the main controls are called, what they do and how to use them.
The various car controls you'll learn are made up from the hand controls, foot controls, auxiliary controls and essential dashboard gauges and warning lights. But don't worry, at this stage you'll only cover the basic essentials for the car controls and you'll not be expected remember everything.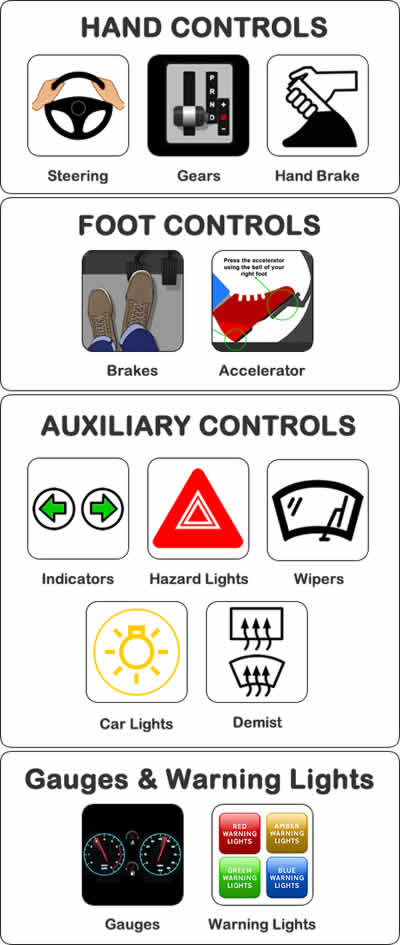 At the start of your driving lessons, the instructor will continue to fully guide you on how to use the various controls and as you gain more independence, the instructor will move away from full guidance, to using prompts where necessary.
Let's take a look at what car controls you'll need to learn. You can use these tutorials to learn as much prior to your first automatic driving lesson. Doing so will help your first lesson go smoother due to you already having knowledge of how they work.
Hand Controls
For the hand controls, you'll learn:
Foot Controls
For the foot controls, you'll learn:
Auxiliary Controls
For the auxiliary controls, you'll learn:
Gauges and Warning Lights
For the dashboard gauges and warning lights, you'll learn:
Move the Car Off and Stopping
After you have a basic understanding of what the car controls do and how to use them, you'll finally go for a short drive. How much driving you do depends on how much time you have left of your lesson, but the benefit here, is that you don't have to waste time learning the gears and clutch – it is of course your first automatic driving lesson. For the procedure of moving off and stopping the car, the instructor will:
Explain how to get the car ready for moving off
Run through the 'mirror, signal, manoeuvre' routine for moving the car off
Explain how to move off safely, slowly and under control
Run through the 'mirror, signal, manoeuvre' routine for stopping the car
Explain how to assess an appropriate distance for parking next to the kerb
Explain how to smoothly stop and then secure the car
End of Your First Automatic Driving Lesson
When you've finished moving the car off and stopping and safely parked up and switched off the engine, the instructor will run through what you have done in your lesson and ask your opinion on how you feel it went. The instructor will also want to know any areas of the lesson that you feel you were unsure about.
After your first driving lesson, you'll also discuss booking further lessons and the instructor will explain any discounts they may offer. Discounts usually come in the form of block booking lessons.
If you do wish to book future lessons, the instructor will explain how they will continue to build your tuition on the next lesson and to also go over any areas that you feel unsure about. The driving instructor should also provide you with a progress report sheet. You'll once again swap seats with the instructor and they'll then drive you home.