These are the official DVSA best and worst driving test centres for the period April 2021 and ongoing updates through to the year ending March 2022. These statistics detail the UK's top 10 easiest and top 10 hardest test centres to take your test at.
Statistics for each test centre are a combination of male and female test candidates along with both manual and automatic transmission combined. Let's start off with the best driving test centres.
Best Driving Test Centres
The best test centre to take your driving test is Ballater driving test centre with the highest pass rate of 83.3 percent. However, the test centre is located in rural Scotland, so it's not a test centre that many are likely to book their test at.
| Best Driving Test Centres | Test Pass Rate |
| --- | --- |
| Ballater | 83.3% |
| Rothesay | 81.0% |
| Inveraray | 80.0% |
| Kyle of Lochalsh | 79.3% |
| Stranraer | 78.4 % |
| Lerwick | 77.7% |
| Fraserburgh | 77.6% |
| Peebles | 76.3% |
| Isle of Skye (Portree) | 76.0% |
| Peterhead | 76.0% |
In fact, for the year 2021/2022, all of the top 10 best driving test centres are located in Scotland, so if you live down south, you're far more likely to be dealing with test centres that have a somewhat less appealing pass rate.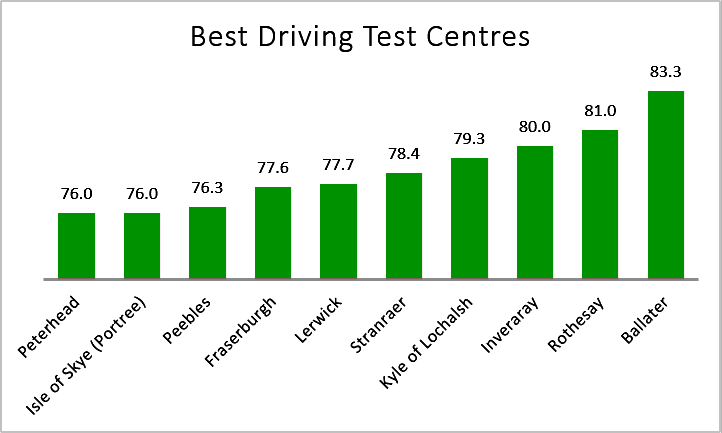 By taking your driving test at one of the top 10 best driving test centres, you're almost certain to pass. But as you head down south, your chances of passing the driving test take a steep decline. With that in mind, let's take a look at the UK's worst driving test centres.
Worst Driving Test Centres
The worst driving test centre in the UK is located in Erith, London. With only 29.1 percent chance of passing your driving test, Erith driving test centre is the UK's most difficult test centre to pass your test at.
| Worst Driving Test Centres | Test Pass Rate |
| --- | --- |
| Erith (London) | 29.1% |
| Belvedere (London) | 31.3% |
| Speke (Liverpool) | 34.7% |
| Croydon (London) | 37.3% |
| Birmingham (Kingstanding) | 38.0 % |
| Yeading (London) | 38.2% |
| Birmingham (South Yardley) | 38.2% |
| Bristol (Jubilee House) | 38.3% |
| Birmingham (Sutton Coldfield) | 38.6% |
| Stoke-On-Trent (Cobridge) | 39.0% |
In fact, within the top 6 worst performing test centres throughout the UK, 4 of those test centres are in London alone. Other test centres located in major cities such as Birmingham and Liverpool don't fair much better than London.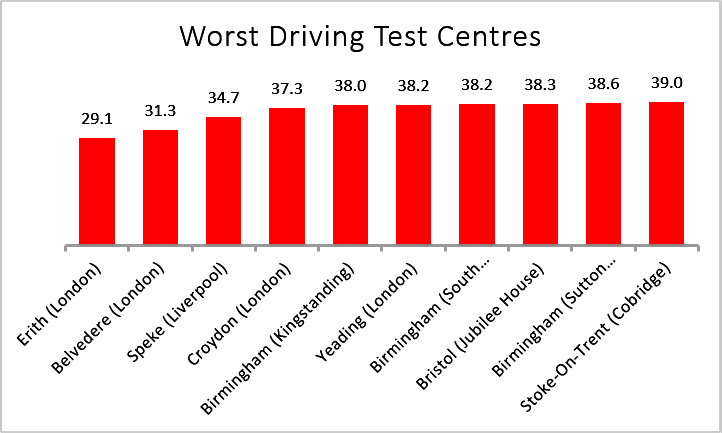 If DVSA driving test consistency remains the same throughout all of the UK's driving test centres, then why is there such a disparity between the best and the worst performing test centres?
Location, Location, Location
In simple terms, where you take your driving test matters. If you're taking your driving test at a test centre that's in a busy town or city, you'll be up against heavy traffic, impatient drivers and test driving test routes that include constant changing speed limits, from 20 mph residential areas, right up to 70 mph dual carriageways.
Busy urban areas also tend to include various roundabouts, from mini, to large multilane roundabouts, complex junctions and one-way system. In contrast, more rural-based test centres will have test candidates having to deal with far less traffic and often simpler village roads.
Some of the higher performing test centres are in the middle of nowhere and really quite remote. As such, it hardly makes practical sense to go booking your test at one if it's really out of your way. If you are forced to take your test at one of the busy city-based test centres, how do you increase your chances of passing the test?
Putting in the Extra Work
In reality, by taking your test at a busy test centre, particularly one that features on the worst test centres list, you're likely going to have to put in more practice and training compared to candidates taking their test at one of the best test centres. This may seem a little unfair, but with the far more challenging test routes, there's not too many options.
1. Driving Lesson Syllabus
Follow the driving lesson syllabus and ensure that you are proficient in all areas. The complex and fast-paced test routes usually find any weaknesses that you may have going into the test.
2. Practice with Family and Friends
Along with professional lessons from a driving instructor, gain as much valuable driving experience with family and friends as you can. You'll find that the more driving experience you receive, the greater your chances of passing the test are.
3. Study the Roads Around the Test Centre
A surprising amount of driving tests are failed within a few minutes of the test commencing. This is likely due to the test candidate not being overly familiar with the roads and heightened nerves.
Practice the roads directly around the test centre to familiarise yourself with them. If possible, practice entering and exiting the test centre. If that's not possible at your test centre, park up, get out and visualise entering and exiting the test centre so you know what you'll be dealing with.
4. Become Familiar with the Test Routes
Each test centre has a head examiner, the test centre manager and it's their responsibility to devise test routes that involve varied road types and complex traffic systems. Spend time learning the test routes so that there'll be no nasty surprises on your test day.
5. Know Where Most Test Candidates Fail
Each and every year, the most common reasons for test fails remains almost unchanged. Run through the top 10 most common reasons for test fails to ensure you don't become another statistic. From the most common reasons to fail the driving test, junctions and mirrors always feature as the top reasons for failure.
Automatic Pass Rates
If you're looking for the driving test centres with the UKs highest and lowest automatic pass rates, see: